Bunkering in Las Palmas Port
Bunkering operations 24 / 7 days
Bunkering operations are operations related to fueling and refueling a vessel with fuel, engine oil and other auxiliary process fluids.
The strategic location of the Canary Islands in the Mid-Atlantic Ocean at the intersection of the international sea routes of Africa, Europe and America makes it a necessary bunkering center. The Port of Las Palmas is one of the busiest transshipment ports in the west coast of Africa in terms of total tonnage. In a manner of speaking so for many ship operators, Las Palmas is simply the epicenter of the bunker world in the Mid-Atlantic Ocean.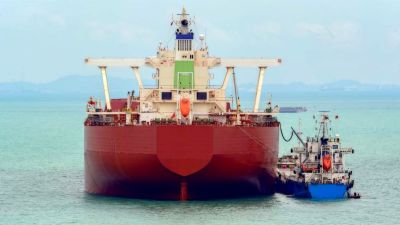 The largest oil companies and international suppliers of fuel and marine oil offer their products and services from here.
Intercop as a ship agent supplies a wide range of marine fuels and marine lubricants to carriers and operators. From large energy, logistics companies to local fishing companies, they choose us as a fuel supplier.
Marine fuel classifications
The new International Maritime Organization (IMO) regulations on marine fuels IMO 2020, effective January 1, 2020, required ships to use fuel with a maximum sulfur content of 0.5%.
Nevertheless, some ships that have installed emission neutralization mechanisms (scrubbers) on their vessels still buy traditional marine fuel 3.5%.
Intercop is at your complete disposition to provide marine fuels of various classifications and standards for your ships. we can always find and offer you solutions and alternatives.
VLSFO  *Maximum 0.5% Sulfur fuel (Also known as IMO2020 grade bunkers)
MGO  unless otherwise specified,  *Max 1.50% Sulfur "Clear and Bright" Distillate (DMA, DMZ, etc)
LSFO / HSFO
ULSFO *Max 0.10% Sulfur Fuel Oil for Compliance with 2015 ECA Regulations
LSMGO  * Max 0.10% Sulfur Distillate (DMA, DMZ) for Compliance with 2015 ECA Regulations (The fuel is to be used in EU Ports and Anchorages)
IFO 380 & IFO 180  (Intermediate fuel oil)  *Maximum 3.5% Sulfur Bunkers (RME, RMF, RMG, RMH, RMK, etc)
LS 380 & LS 180 ( Low-sulfur) *Maximum 1.0% Sulfur Bunkers
MDO  (Marine diesel oil) *Max 1.50% Sulfur Distillate (DMB)
Brands We Offer
We are ready to supply any type of diesel fuel, gasoline, engine oil, lubricants for vessels from global brands. All fuels of top quality that meet the stated requirements of the Certificate and the ISO standard.
Note: To quickly look for an alternative for the brand of your marine fuel of your needs, please, see the convenient

table.
Brands: Shell, Castrol Marine, Total Lubmarine, Chevron Marine, Exxon Mobile
Bunker operations
Each bunkering operation performed by bunker tankers on ships must comply with the standards and quality of bunkering. In order to minimize delays and increase sailing time, we conduct bunkering operations on ships
 in port anchorage – by pipe
 at the sea OPL – by bunkering vessel

Advantages of Intercop Bunkering Services
Cost
– The cost of bunkering services and fuel therefore consequently depends on type and amount of fuel, on the port in which bunkering will be carried out. All these points are discussed in the process of concluding a contract.
Transparency
– Our client will be provided with a completely transparent and detailed contract, which carefully spells out all the nuances: duties and responsibilities of the parties; quality, type and brand, time and place of delivery, technological features of bunkering, price, method and term of payment, forfeits, force majeure and other conditions.
Safety
– Bunkering operations on the vessel are carried out according to strict rules. Certain technical measures are designed to prevent environmental pollution and the ingress of petroleum products into the water. In addition, strict fire safety measures are taken.
Us chooses
Efficient, comprehensive services for the bunkering of ships of various classes and cargo capacities, including drilling rigs, ships docked in shipyards, FPSO, oil platforms, military vessels, cruise ships, yachts and superyachts.
Choosing Intercop Bunkering as your supplier you will always provide your fleet with high-quality fuel bunkering at a competitive price to support your business today and in the future.